TWO NEW OFFICERS JOIN IRELAND'S ARMY EQUITATION SCHOOL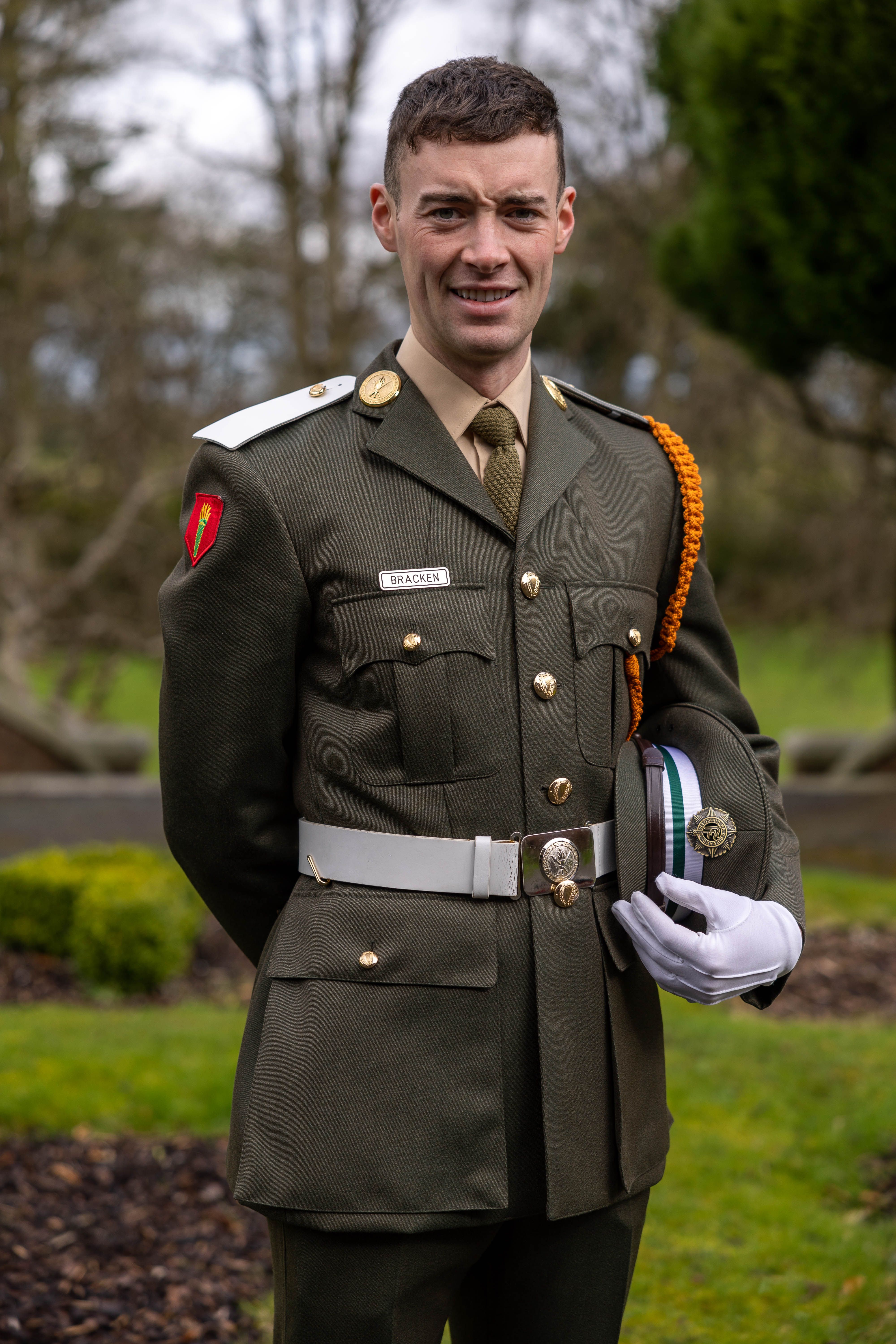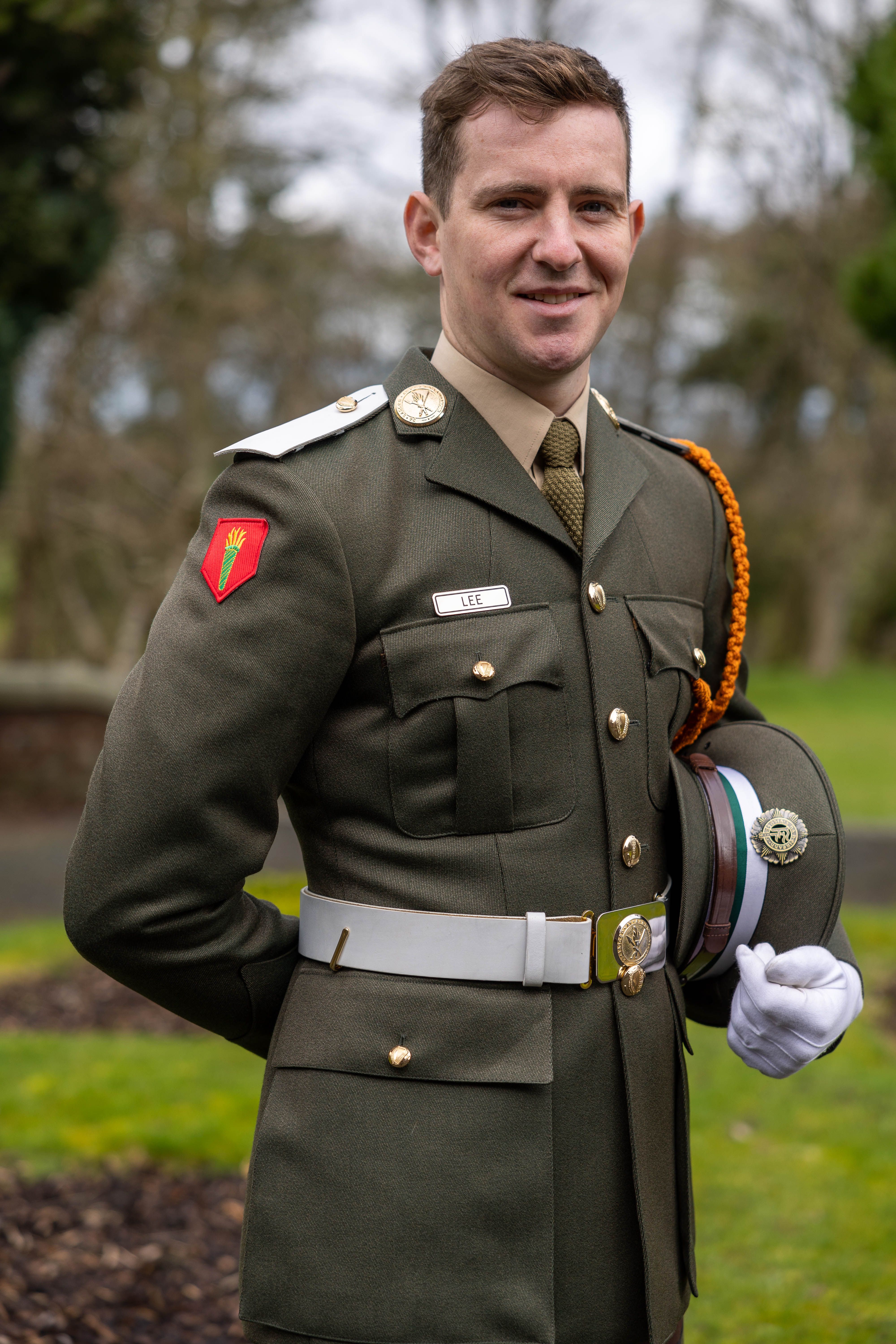 TWO NEW OFFICERS JOIN IRELAND'S ARMY EQUITATION SCHOOL

29th March 2023

Two new officers have been assigned to Ireland's Army Equitation School.  Lieutenant James Bracken and Second Lieutenant Raphael Lee were commissioned at the commissioning ceremony of the 98th cadet class at Collins Barracks, Dublin, Ireland today [Wednesday, March 29, 2023].  The commissioning ceremony was attended by the Tánaiste and Minister for Defence Micheál Martin and the Chief of Staff of the Defence Forces, Lt Gen Seán Clancy.

Lieutenant James Bracken (26) is from Tullamore, County Offaly. The son of Thomas and Martha Bracken, he has three brothers and one sister. Prior to being awarded his cadetship, he completed a Diploma in Business Studies and a Postgraduate Degree in Analytics and Statistics, each from the University of Limerick.  His interests include horse riding and going to the gym.

Second Lieutenant Raphael Lee (26) is from Headford, County Galway. He is the son of Ray and Deirdre Lee. Before being awarded his cadetship he was educated at Presentation College Headford, and worked at breaking, training and competing horses on his home farm. His interests include rugby and hurling.  In 2019, prior to joining the Defence Forces, Lee won the Showjumping Ireland Connaught Region Grand Prix League for a third year in-a-row.

The Army Equitation School is based at McKee Barracks in Dublin and was founded in 1926 to promote Ireland and the Irish horse.


ENDS


Pixs of Cadet Bracken (Left above) and Cadet Lee (Right above) with thanks to the Defence Forces Press Office.
ABI LYLE IS THE IRISH FIELD DRESSAGE RIDER OF THE YEAR 2022






 

ABI LYLE IS THE IRISH FIELD DRESSAGE RIDER OF THE YEAR 2022
7TH MARCH 2023
Abi Lyle is The Irish Field Dressage Rider of the Year for 2022.  County Down native Lyle had a 2022 season to remember. Uniquely, Abi was the only Irish rider to qualify two horses, Giraldo and Farrell, for the 2022 FEI Dressage World Championships in Herning, Denmark where she made her senior Team Ireland debut with Giraldo.  In May last year Abi and Giraldo won the consolation Grand Prix at Compiègne CDI3* in France. A score of 69.532% saw them place fifth in the Grand Prix Special at Hartpury CDI3* in July.  The British-based Lyle and Farrell clinched a world championships qualification when scoring 68.848% for sixth place in the Wellington CDI3* Grand Prix in June.
Having moved from Northamptonshire to a new yard in Wiltshire to be closer to her trainer Carl Hester, Abi and Giraldo finished their year with a flourish at the five-star London International Horse Show. A personal best of 70.395% for seventh place in the FEI World Cup Short Grand Prix class followed by a debut top ten in the FEI Dressage World Cup Grand Prix Kür (Freestyle to Music) on a score of 75.250% qualified Lyle for membership of an elite Irish equestrian club.  Along with Olympians Anna Merveldt and Judy Reynolds, Abi became only the third Irish dressage rider ever to score 75% or above in a international CDI Grand Prix Kür (Freestyle to Music) class. "It is a great honour to be here today to receive this award" said Abi "The FEI Dressage European Championships are my big target for 2023. There is so much more to come from my horses and I'm aiming to improve my scores in the season ahead."  
Lyle was also presented with 'The Irish Field/Gain Equine Nutrition Star of the Month' award for December 2022, decided by a public vote, at the 50th anniversary The Irish Horse World Awards lunch in the Palmer North Golf Club, The K Club, Straffan, Co. Kildare, Ireland today [Tuesday, March 7, 2023].
Special recognition award medals were presented, on the day, to four of the five former editors of The Irish Horse World, Grania Willis (1980-2003), Siobhan English (2003-2010), Sascha Geraghty (2010-2015) and Caitriona Murphy (2015-2016) along with the current editor Isabel Hurley (2016 to date). The first editor of The Irish Horse World Averil Douglas Opperman (1972-1980) was unable to attend to receive her medal in person. In a message to the attendees at the awards lunch, read on her behalf by the editor of The Irish Field Leo Powell, she recalled how the then editor Val Lamb invited her to set up The Irish Horse World section of The Irish Field and this proved to be the genesis of the annual The Irish Horse World equestrian sports awards ceremony fifty years ago.  

The other award winners are as follows:-
The Irish Field Senior Show Jumper of the Year 2022 - Conor Swail
The Irish Field Senior Event Rider of the Year 2022 - Susie Berry
The Irish Field Young Show Jumper of the Year 2022 - James Derwin
The Irish Field Young Event Rider of the Year 2022 - Ben Connors
The Irish Field/Gain Equine Nutrition Star of the Year Award 2022 - Niamh McEvoy

Previous winners of The Irish Field Dressage Rider of the Year Award (first awarded in 1997) are as follows:-
1997 - Yvette Truesdale
1998 - Heike Holstein (1)
1999 - Katy Price
2000 - Anna Merveldt (1)
2001 - Anna Merveldt  (2)
2002 - Anna Merveldt  (3)
2003 - Heike Holstein (2)
2004 - Anna Merveldt (4)
2005 - Heike Holstein (3)
2006 - Anna Merveldt (5)
2007 - Heike Holstein (4)
2008 - Judy Reynolds (1)
2009 - Anna Merveldt (6)
2010 - Anna Medveldt (7)
2011 - Anna Merveldt (8)
2012 - Helen Kearney
2013 - Roland Tong
2014 - Judy Reynolds (2)
2015 - Judy Reynolds (3)
2016 - Judy Reynolds (4)
2017 - Judy Reynolds (5)
2018 - Judy Reynolds (6)
2019 - Judy Reynolds (7)
2020 - Kate Dwyer
2021 - Heike Holstein (5)
2022 - Abi Lyle

ENDS